This week there's a special photo feature: It's a photo essay of my Thanh Cam factory tour, I hope you enjoy it. Please allow sometime for the high res. pics to load!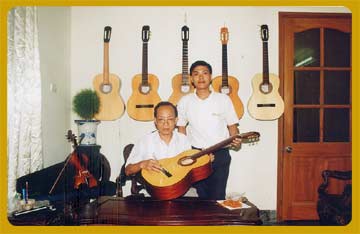 Asian crafted guitars are no longer associated with poor workmanship, sub optimal tone and dismal playability. In fact, instruments from the Pacific Rim are beginning to make an impact on the higher end of the flattop scene. Thanh Cam musical instruments in Vietnam is a family operated atelier style workshop.
The workshop was started by Do Van Thuoc in 1953 at the tender age of fourteen. He learnt the art of the luthiery from his uncle and after working as technical expert and manager for Beijing Musical Instrument Enterprises in China, he started Thanh Cam Workshop in 1990. Over the past few years, his son, Do Viet Dung has taken over the family business. Dung has joined Guild of American Luthiers to improve and exchange ideas on instrument construction and is constantly elevating his craft.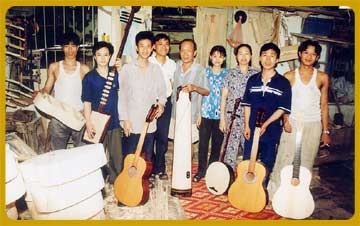 Thanh Cam Workshop occupies the top 3 levels of the 5 storey family property in Ha Noi. A group of luthiers produce around 400 instruments a month, the vast majority student grade. Dung is now expanding his own atelier style made high end guitars. These guitars are predominantly slated for export, for OEM sales or custom orders. Without further ado, here is a brief photo essay of the workshop tour:
It starts with importing wood. Any imported wood is air dried for 5 years before use.
Indian rosewood is imported directly from er, India.
Vietnamese Rosewood…. sourced locally
The workshop is well ventilated and lit.
Molds, molds everywhere!
Sidebending with a heating element
Drillpress…. sanders
A workman shaping the backstrip.
Finish being applied to student grade guitars
Guitars readied for finish
Guitars awaiting final setup
OEM Weissenborn build
All packed, ready to go.
Well that's about it for the contruction process, but stay tuned for more photos and further insights on my visit to the Hanoi Workshop!
Resources:
An Inside look at the Thanh Cam Instrument Workshop
http://www.thanhcammusic.com


©2009 Terence Tan & Thanh Cam workshop. terence@guitarbench.com

The author and Guitarbench.com wish to thank Dung and the team at Thanh Cam Workshop for the opportunity to tour the workshop. Also a special thanks to Andy Depaule for putting us in touch with Dung.
Disclaimer: No part of the trip was financed by Thanh Cam Workshop or their associates. The author received no gifts or incentives other than honest hospitality received at the workshop to produce the article above. The author does not own or represent or otherwise vests interest inThanh Cam Workshop at the time of writing.
Errors are unintentional although we try very hard not to make them- corrections or feedback are always welcome! Guitars are property of individual owners.
Any infringement of copyright is entirely unintentional. Any copyright issues should be address to: writers@guitarbench.com. We will attempt to resolve these issues quickly. Guitars remain property of respective owners.